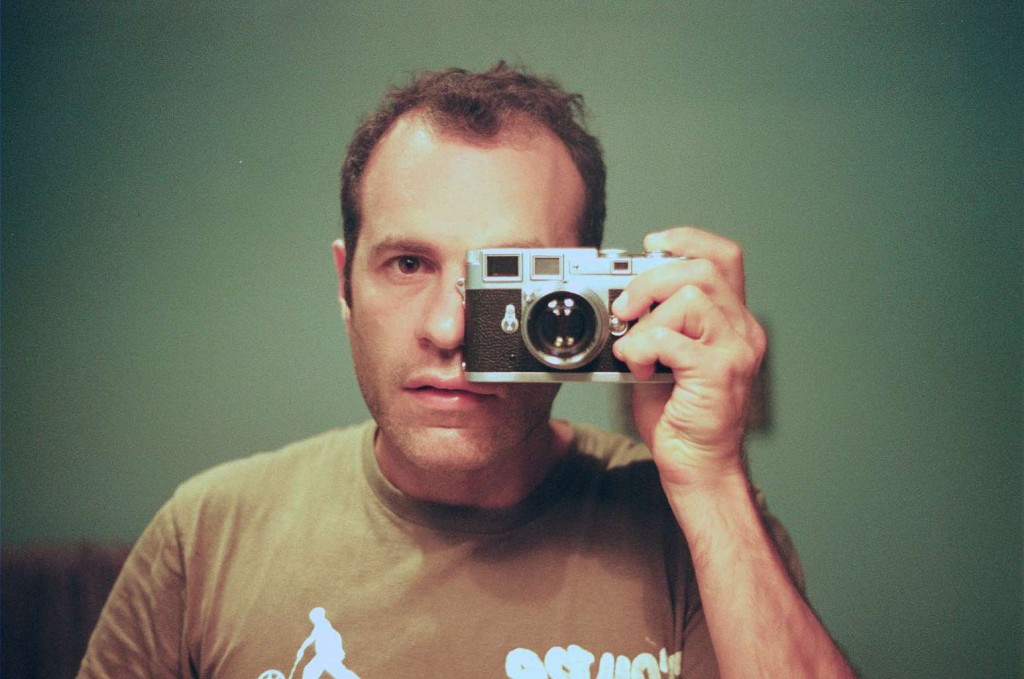 Kaveh Nabatian is an Iranian-Canadian director and musician whose evocative filmmaking has brought to life stories from the margins of society and across the world: Haiti, Nunavut, New York and beyond. His film work ranges from A Crack in Everything, a feature doc about Leonard Cohen, to masterminding the Rotterdam-premiering, experimental, seven-director anthology feature The Seven Last Words, to his Canadian Screen Award-nominated feature narrative debut, the Cuba-set and shot Sin La Habana, which won multiple awards from international film festivals, was a New York Times Critic's Pick, and holds an 91% approval rating on Rotten Tomatoes. His most recent film, the award-winning Kite Zo A: Leave the Bones, is a sensorial documentary feature shot in Haiti, made in collaboration with Haitian musicians, poets, Vodou priests, fishermen, and daredevil rollerbladers. It had its international premiere at SXSW.
His cinematic collaborations with musicians and dancers include projects with Arcade Fire, The Barr Brothers, Leif Vollebekk, Clara Furey, and Axelle Munezero. And as a composer and trumpet player, he's toured the world and released several critically-acclaimed albums with his Juno award-winning band Bell Orchestre.
Committed to cinema education and outreach, Kaveh continues to work with emerging filmmakers at Haiti's Artists Institute and in the Alqonquin community of Kitigan Zibi.
With a restless creative spirit that transcends genre boundaries, Kaveh aspires to make films that have the immediacy of music, and to make music that has the evocative energy of film.
Kaveh is an IFP Narrative Lab fellow, and an alumnus of TIFF Writers Studio, Berlinale Talents, TIFF Talent Lab, and TIFF Pitch This.
SELECT PRAISE
Nabatian is sympathetic to all three characters and their lack of easy choices, and his eye for small cultural details and rituals — the intricacies of Afro-Cuban dance, the tiles on the floor of a Havana apartment, the teacups at a gathering for Nasim's family — enforces how identity continues to shape their lives even as they're far from home. While the fate of their relationships is left ambiguous, these transient moments linger long after Leonardo has performed his last dance in front of the camera. [Sin La Habana] – New York Times Critic's Pick, Claire Shaffer
Writer/director, Kaveh Nabatian, is an excellent storyteller. It's very easy to get wrapped up in the beautiful musical world of dance, love, and heartache that is Sin La Habana. It's a world definitely worth exploring.   -Film Threat
Sin La Habana, by Montrealer Kaveh Nabatian (from the group Bell Orchestre) amazes with the singularity of its inventive narrative breath and the vibrancy of its camera, saturated with colour and movement.  -Le Devoir, Louise-Maude Rioux Soucy                                                                                                     
Pour la richesse et l'humanité complexe de chacun des personnages, pour la grande honnêteté de la proposition artistique et pour le regard posé avec soin sur un sujet universel.   -FNC Jury, in awarding the Prix de la Diffusion to Sin La Habana   
Sin La Habana n'est pas qu'un film. C'est une œuvre multidisciplinaire. Un objet d'art.   -La Presse, André Duchesne
Nabatian has made a beautiful film that is an act of faith and love for a country and its people. To live in Haiti is an act of rebellion against entropy, cultural decay, natural disasters, and human failings. In Kite Zo A: Leave the Bones, Nabatian paints a hopeful picture of where the fiercely irrepressible Haitian people came from.  -Film Threat
Kaveh Nabatian's thrilling film Kite Zo A: Leave the Bones combines dance and politics into a furious conflagration that is equal parts history, observational documentary and something more ineffable. The result is an experiential film that defies easy classification. -The Tyee, Dorothy Woodend
This film has such a mind blowing collection of sights and sounds that it's kind of like watching a Werner Herzog documentary that was on a crazed mix of acid and speed. [Kite Zo A: Leave the Bones]   -Unseen Films
As Seen Through Windows, by Bell Orchestre, is an almost architecturally structured affair; its dynamic shifts smoothly achieved, its sonics buffed and squeezed into a panorama of vivid colours.   -BBC Review
This is a powerful piece of filmmaking, an excellent example of the medium's capacity to aspire to, and achieve, art. Based on a true story, it's a portrait of a man accepting his identity. With minimal dialogue, Kaveh Nabatian's film is delicate in places, affecting, but always visually striking. [Vapor]
-Eye For Film
With spare, powerful images and an assured structure, Vapor tells its story like a dance piece. No image is wasted, no moment overplayed. Vapor stays with you long after you've left the theatre.   –Sudz Sutherland (Filmmaker/TIFF juror)
★★★★ Dérouté, ravi, ému…un exploit . C'est tour à tour émouvant, mystérieux, déroutant, hallucinant. [The Seven Last Words].   -Le Devoir, François Lévesque
AWARDS AND DISTINCTIONS
Best Canadian Film, VIFF (Sin La Habana)
Prix de la Diffusion, Festival du Nouveau Cinéma (Sin La Habana)
Grand Prix du Jury, Les Percéides (Sin La Habana)
Best Director, Bend Film (Sin La Habana)
Canadian Screen Award Nomination, Best Screenplay (Sin La Habana)
Canadian Screen Award Nomination, Best First Feature (Sin La Habana)
Prix Iris, Best First Film – Won (Sin La Habana)
Prix Iris, Best Director – Nominated (Sin La Habana)
Prix Iris, Best Film – Nominated (Sin La Habana)
Prix Iris, Best Screenplay – Nominated (Sin La Habana)
Prix Iris, Revelation of the Year – Nominated (Sin La Habana)
Prix Iris, Best Editing – Nominated (Sin La Habana)
Prix Iris, Best Sound – Nominated (Sin La Habana)
Gerald Hirschfeld Award for Best Cinematography, Ashland IFF (Sin La Habana)
Opening Night Film, Reelworld Film Festival (Sin La Habana)
Outstanding Director, Reelworld Film Festival (Sin La Habana)
Outstanding Actress, Reelworld Film Festival (Sin La Habana)
Outstanding Actor, Reelworld Film Festival (Sin La Habana)
Outstanding Cinematographer, Reelworld Film Festival (Sin La Habana)
Outstanding Screenwriter, Reelworld Film Festival (Sin La Habana)
Discovery Award Shortlist, Directors' Guild of Canada (Sin La Habana)
Best First Feature (MISAFF) (Sin La Habana)
Best Cinematography (MISAFF) (Sin La Habana)
Best Sound Design (MISAFF) (Sin La Habana)
Best Production Design (MISAFF) (Sin La Habana)
Best Screenplay (MISAFF) (Sin La Habana)
Canadian Cinema Editors Award, Best Editing in a Feature Film – Nominated (Sin La Habana)
Outstanding Cinematographer, Reelworld Film Festival (Kite Zo A: Leave the Bones)
Prix de la Paix (International Panorama Audience Prize), Festival du Nouveau Cinéma (Kite Zo A: Leave the Bones)
Canada's Top Ten Films, TIFF (Vapor)
Genie Award, Best Short Fiction Film  – Nominated (Vapor)
Prix Jutra, Best Short Fiction Film – Nominated (Vapor)
Silver Palm Award, Mexico International Film Festival (Vapor)
Prix du Public, Image+Nation (Montreal) (Vapor)
Special Mention, International Competition, Shortshorts (Mexico City) (Vapor)
Chris Award for Best Narrative, Columbus Film and Video Festival (Vapor)
Senior Award, Amsterdam Gay and Lesbian Film Festival (Vapor)
Best Cinematography, Prix Prends ça court! (Montreal) (Vapor)
Best Sound Design, Prix Prends ça court! (Montreal) (Vapor)
Prix d'Interprétation Masculine, Paris Courts Devant (Dive)
Most Original Short Film, Festival du Nouveau Cinema (Nan Lakou Kanaval)
Meilleur réalisation québécoise, Regard sur le court-métrage (Nan Lakou Kanaval)
Special Jury Mention, Prix Prends ça court! (Montreal) (Holika)
Special Jury Prize for Experimental Film, SXSW (Austin, TX) (Upwards March)
Juno Award, Best Instrumental Album (with Bell Orchestre)
Best Short Film, Directors' Guild of Canada (Taxi Libre)
Top Ten Audience Choice, CFC Worldwide Short Film Festival (Taxi Libre)
Honorable Mention, Los Angeles Movie Awards (Taxi Libre)
Best New Filmmaker, Reelworld Festival (Malek's Poster)
Gémeaux Nomination, Best Director of a Children's Documentary (Je vis ta vie)
Gémeaux Nomination, Best Documentary Series (Facteur humain)
Winner of Award of Excellence at Alliance for Children and Television (Je vis ta vie)
1st Place, Iron Mule Comedy Festival (NYC) (Love)
Finalist TIFF Emerging Filmmaker Competition (Love)
2nd Place, Fantastic Shorts, Fantastic Film Fest (Austin, TX) (Love)
Best PSA, Couch Film Festival (Reykjavik) (Love)
Winner of Reel Diversity Competition, National Film Board of Canada
Award of Merit, Chicago International Film Festival (Sausages)
Pitch This! Finalist (Rumba, Mohammed VI), TIFF/Telefilm Canada
Best Experimental Album, Gala de Musique Indépendent du Québec (with Bell Orchestre)
Film Production Grants, Bertha Foundation
Screenwriting Grants, SODEC
Film Production Grants, SODEC
Film Production Grants, Telefilm Canada
Research and Creation Grants, Quebec Council of Arts and Letters (CALQ)
Film Production Grants, Canada Arts Council
Banff Centre for the Arts Music Residency
Mexico City Screenwriting Residency (FONCA/CALQ)
Centro de Artes de San Agustin Oaxaca Residency (FONCA/CALQ)